For thousands of years, the Meuse has hollowed out the former bed of a primary ocean, creating the Freyr rocks that are well-known to all mountaineers, climbers and rock-climbers. Above the rocks spreads a large flat and fertile plateau, crossed by the road from Dinant to Beauraing. Make a stop there.
Through the doorway, you will discover a huge area for relaxation in a natural setting, surrounded by an enclosure ….
There is a charming character restaurant. The building, with its simple lines typical of the region, is dominated by grey stone. The spirit of the place lies in finding good old-fashioned cooking, simmered dishes and those tasty dishes Grandmother used to make. It's all about following the seasons and discovering the true, straightforward flavour of things.
Numerous hiking and mountain bike trails are available in the area. You might also enjoy visiting local castles and abbays.
We also offer several weekend packages such as our gourmet weekend combined with a rafting adventure on the Lesse.
Six 3-star rooms located in a quiet, secluded flower garden will be at your disposal. Amenities in each room include colour television, private bath, safe, hair dryer, telephone, mini bar and private patio.
Automobiles can be securely parked by your room.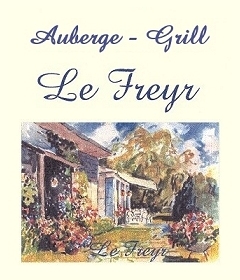 Restaurant - Hotel
Patrick Plasschaert
Booking
E-mail : restofreyr@hotmail.com
Web site : www.lefreyr.be
Chaussée des Alpinistes 22
5500 Anseremme

Click here to see the map

Open Monday to Friday from 11 a.m. to 3 p.m. and from 5 p.m. to 11 p.m. Weekends and holidays from 11 a.m. to 11 p.m. non-stop
Kitchen open from 11:30 a.m. to 2:30 p.m. and from 5 p.m. to 8:30 p.m., saturday and sunday from 11:30 a.m. to 8:30 p.m. non stop
Terrace, tennis